Artograffi: Easter eggcitement
Welcome to the Easter production of Artograffi. We hope you enjoy reading this because we have been very busy putting it together.
Excitement in Amble
You might not know about the Youth Club at CastleMania. It takes place every Friday night from 6 – 8pm. Basically you pay £2.50 and you get to do whatever you want. You can go on the climbing frame, play football, go in the ball pits. Or you can talk with your friends. They sell burgers, chips, sausages and hot and cold drinks. You have to be 9 – 14 years old to go. My favourite part is the football pitch, because I get a football and play with my mates. It is run by Janneil and Joanne. I would recommend everyone to go because it's great fun and also if you want to get out of the house for a few hours and see your mates.
By Dylan Stanford
Where will the Olympic torch sleep?

The London 2012 Olympic flame will be travelling to over 1,000 destinations across the UK, and it  will come to Alnwick on June 14th. It will stay overnight in Alnwick and leave early in the morning on June 15th. It will travel through Amble before school starts.
I would like to know how it is staying in Alnwick. Maybe it will be kept in a box… or in a cupboard… or in Sainsbury's!
By Grace
I saw an amazing ball of light
Me and my friend were bouncing on my trampoline when I saw a bright ball of light which went straight over my head. I thought it was a ginormous shooting star. It looked like a big round ball with bits of light orange around it. The next day we heard on the news that it was a meteorite.
We did not think much of it until it was on the news.
By "Star Dancer"
The winning X Factor ticket
Eve Ellwood aged 12 won 4 tickets to see the X FACTOR at the Metro Arena on the 20th of March.
We talked to Eve who explained what happened. "I went to the Optician in Amble and got entered in a competition."
Thompson's Opticians in Amble told us " We often do competitions for youngsters still at school.  This time all children who had their eyes tested went into a draw and the lucky winner was Eve. It was lovely to have a local winner from the Amble area."
Eve is going with her friend Chantelle Kielty, her mum and her mum's friend.  She hopes that she will see her favourite judge Tulisa. She told us she is looking forward to see Little Mix, and her favourite act is Amelia Lilly.
"The optician rang mum and then my mum told me I had won, I was really surprised and happy" she said.
By Gracie and  "Star Dancer"
Helping people lose weight
We in Artograffi were invited to meet the Slimming World group who meet at Trinity Methodist church. Slimming world has a new campaign to fight obesity. It is called Let's Beat It. Slimming World in Amble is run by Shirley Knox.
The new campaign started on 13th February for 12 weeks. Shirley said "It's to help people to get a healthier lifestyle. We want to encourage new people to join."
Slimming World has been up and running for 42 years.
Taster meals were brought in for the group to try. They had been made by the group members to help with meal ideas. The members of Slimming World get an award in their book to show when they have lost a certain amount of weight.
We also thought that something Shirley told us about was unusual. They have something called Syns. This is something they use instead of counting calories they call them Syns. This is the way they count how healthy or unhealthy something is. We think this is a really good idea.
If you would like to join this group then contact Shirley Knox on 077541 55224.
by Olivia Angus, "Star Dancer"and  Dylan Stanford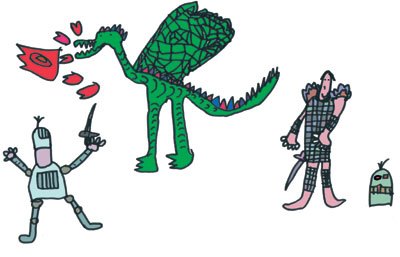 St George's Day is on 23rd April